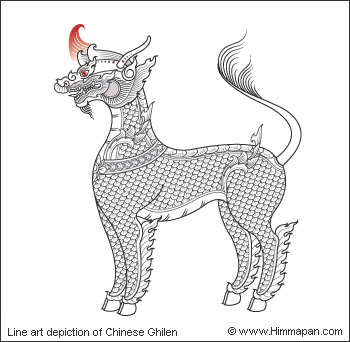 In Chinese legends, the creature is said to have the head of a dragon with a single antler, the body of a deer covered with scales, a tail of an ox, and horse-like hooves. The creature was a result of combination of 5 primary elements; earth, water, fire, wood, and metal. Some say a Ghilen can live up to several thousand years.

Old Chinese dictionary described a Ghilen differently as it has the head of a dog but other features are the same as above. Ghilens also have different mane clolors but the belly fur is yellow in color. There are 5 shades of skin (scale) colors; red. yellow, blue, white, and black. Male Ghilen has one antler while female has none. The creatue's also able to leap on water surface.

During Meng dynasty, Chinese people saw a giraffe for the first time (1414 AD) and an artist drew the giraffe and titled it "Ghilen". Perhaps because giraffe was an unusual animal and strange in features combining the fact that a giraffe also has soft antlers above its head.